Testimonals
Comments from some of our parents.
Our Classroom
Gallery of a few pictures of our classroom.
More Montessori
Additional websites about Montessori education.
Introduction to Montessori
The Montessori Method of education, developed by Dr. Maria Montessori, is a child-centered educational approach based on scientific observations of children from birth to adulthood. Dr. Montessori's Method has been time tested, with over 100 years of success in diverse cultures throughout the world.
It is a view of the child as one who is naturally eager for knowledge and capable of initiating learning in a supportive, thoughtfully prepared learning environment. It is an approach that values the human spirit and the development of the whole child—physical, social, emotional, cognitive.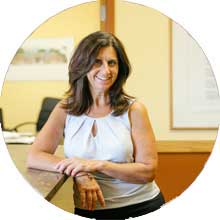 A message from our Director, Mary Lamos
Our staff is looking forward to an exciting and fun filled year with your child. As a student in our school, your child will be introduced to classroom materials that will aid them in developing concentration, coordination, a sense of order, independence and academic skills. To achieve these developmental goals, we use the philosophy set forth by Dr. Maria Montessori.