If you've found yourself on our site, you may already be familiar with the Montessori Method, or maybe you've heard good things about Montessori schools but aren't sure what exactly they entail. In this article, we'll discuss the Montessori Method and its benefits.
The Montessori Method has a rich history of success and is supported by a wide body of evidence. Did you know that the Montessori Method was developed and has been used since 1906? Dr. Maria Montessori opened the Casa dei Bambini (Italian for "Children's House") in 1906, followed by two more schools in 1907. In 1909, she published a book on her method, and by 1910, Montessori schools began to open across Europe and then around the world.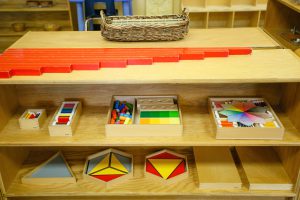 But What IS the Montessori Method?
The Montessori Method is a method of education that is characterized by the prepared environment and mixed-age groups. Children work individually or in small groups using materials specially designed by Dr. Montessori. These materials are designed to support certain aspects of child development, and learning is student-led and self-paced. While teachers will offer activities and lessons, children are free to follow their interests and choose their own work. Students are supported in their learning by highly trained teachers in a nurturing environment.
Why Does That Matter?
Dr. Montessori found that when given the proper environment and materials, children will naturally follow their intrinsic desire to learn. The Montessori Method fosters self-motivated learning and growth in all areas of a child's development: emotional, social, cognitive, and physical. A Montessori education helps children become independent while also being able to work collaboratively. It also fosters critical-thinking skills; respect and empathy for others; and a life-long love of learning.
There is compelling evidence that children who receive a Montessori education outperform their peers in both verbal and mathematic knowledge, and they also perform better on executive functioning tasks. A Montessori education as a child has even been found to increase wellbeing into adulthood!
What Next?
If you're interested in taking the next step in your child's education, we'd love to take it with you! The Montessori Center of Downriver has highly trained staff and authentic Montessori programs.