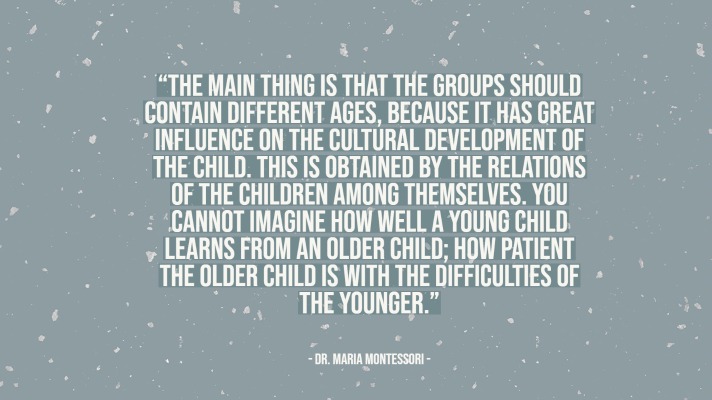 One thing that many people find surprising when they first see a Montessori classroom is the children's age range: In most traditional schools, children are grouped by age. Not so at an authentic Montessori school! Children are instead divided by their stage of development, and so classes are mixed age.
The mixed-age classroom is a hallmark of the Montessori Method. This started with Montessori herself, who observed its benefits in her very first school, Casa dei Bambini. Students stay in the same class and with the same teacher for three years, usually as follows:
18 months to 3 years
3 to 6 years
6 to 9 years
9 to 12 years
In a Montessori high school, students are usually in multi-age classes as well.
Why Mixed-Age Classes?
Montessori observed that children learn through observation, practice, and teaching. A mixed-age classroom provides children the opportunity to do all three. When children are the youngest in the room, they spend a lot of time simply observing the older children. Children naturally look up to their older peers, turning to them for help and emulating them. Older children enjoy being the leaders in the classroom, and teaching younger children provides them practice and reinforces previous knowledge.
The Benefits of Mixed-Age Rooms
The mixed-age room offers benefits outside of the optimal learning environment. Because there are children of many ages and abilities, children are able to work at their own pace—whether it's more time with something or a greater challenge, they'll find it in a Montessori classroom. Children also don't require a formal lesson to learn and be exposed to new information as they're able to observe what the other children are working on.
One of the biggest benefits for children is being with the same peers and teachers for the three-year cycle. This fosters a deep sense of community and increases social skills and well-being. The familiarity that comes from having the same teachers and friends allows children to "hit the ground running" much more easily at the beginning of the year.
See For Yourself
If you've never had the pleasure of watching a Montessori class in action, please feel free to contact us to arrange a tour (currently done via Zoom). We'd love to show you our mixed-age rooms!